There are unfortunately only a few worth-to-buy alternatives to the best selling Trico Iron, Serfas, Thule 699 and BIKND bike case models in the market. As you know, hard bike cases are quite expensive investments and you naturally want to be sure that your investment will not result in a damaged bike during your travel!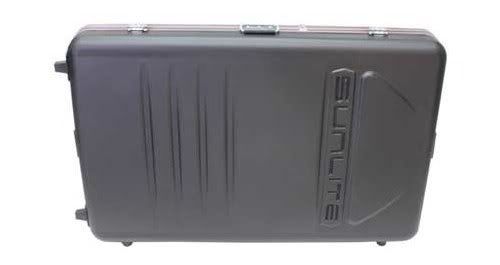 Sunlite hard bike travel case features a very sturdy frame. The outside is ABS based. The finish is anodized aluminum for visual purposes too. The pull handle is on the side with spring-load mechanism. The security and closing tightly is assured by 4 fliplocks. There is a key lock in the center. The wheels enable easy carrying but you can also prefer to remove them.
The hard case will suit most bikes in the market. It has a very large space inside and you can put even some extras including your tools and essential bike accessories.
Remember that you are buying a very large bag. The company will ship inside a truck because it exceeds the UPS size standards. The item is produced by a Miami based company, Sunlite Cycling. It is a very well known company in bike accessories area.
There is a great price drop on Amazon now. Be sure to check the item, read the reviews and take advantage of the deal as soon as possible.